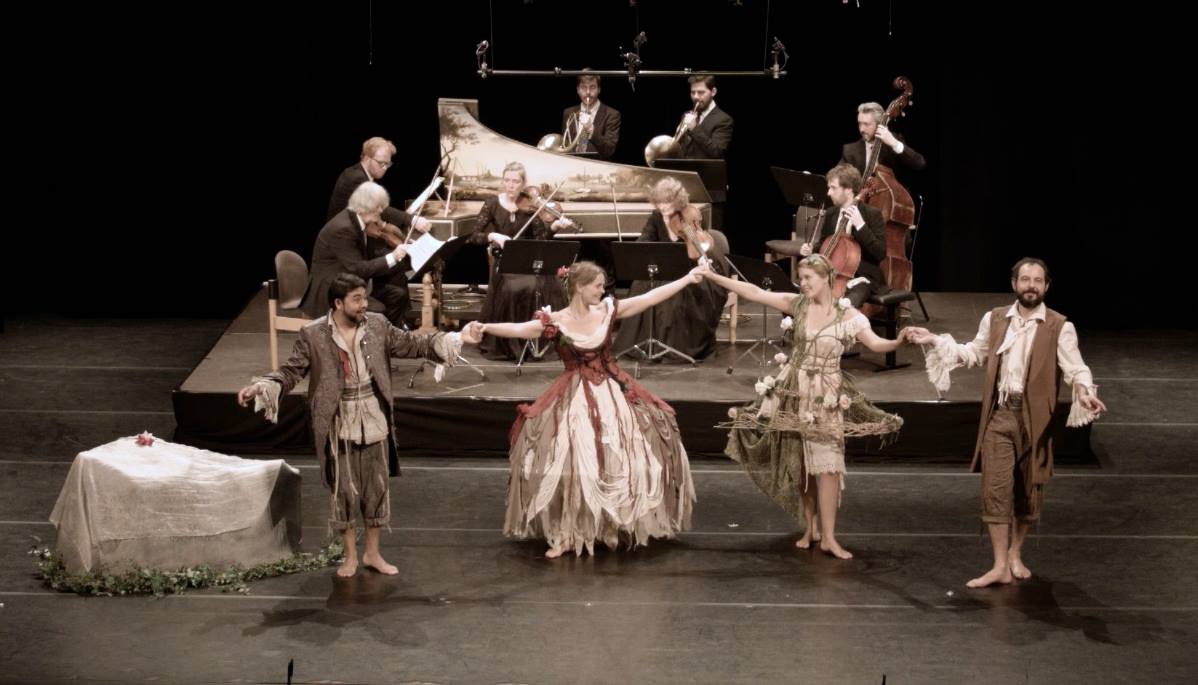 Performing: F.J Haydn L'isola disabitata with La Petite Bande Conductor: Sigiswald Kuijken
Leuven T​​​​heatre.
Bio Español
Bio Italiano

Baltazar Zúñiga was born in Mexico City in 1974. From 1998 it has artistic career as soloist in concert and operatic repertoire in Mexico, Italy and Nord Europe .
He studied singing at the Superior School of Music of the National Institute of Fine Arts in Mexico City. In 1998 e 1999 Baltazar Zúñiga started his career as an opera singer in Mexico in the role of Tamino in Mozart's Magic Flute, Count Almaviva in Rosini's Barber of Seville, during that time he has participated in Japan at the Pacific Musica Festival singing in the most important concerts halls of Sapporo with important conductors as Nicholas Mc. Geegan and Simon Shauten.
He moved to Italy to study bel canto and early music repertoire with Gioacchino Zarrelli, Michael Aspinal and William Matteuzzi at "Accademia del Teatro Città di Cagli" and debuted in 2001 at Rossini Opera Festival (R.OF) in the Rossini's opera "Il Viaggio a Reims" conducted by Antonino Fogliani, continued the debuts of the role of Rinuccio in "Gianni Schicchi" G.Puccini, Ferrando in "Così fan tutte" and Don Ottavio in Don Giovanni W.A.Mozart, Foleville, in "Il Signor Bruscchino" G.Rossini, Lurcanio in "Ariodante" G.F.Händel and th role of Rodolfo of La Bohéme G.Puccini. By 2001 he began a carrer in Italy in operatic repertoire and began to participate as a soloist singing oratorios, symphonic reprtoire and sacred music with important orchestras in Italy.

In the same years he began to specialize in early muisc with important musicians as Gustav Leonhardt, Michael Radulescu, Gloria Banditelli and Francesco Cera. In 2007 he won the international competition for the 400 anniversary of Monteverdi's Orfeo in Mantua singing the role of Orfeo at Theatre Bibiena.

Currently He works with european ensembles of early music: Ensemble Pygmalion, Barocchisti della Radio RSI, La Petite Band, Accademia Bizantina, Concerto Romano, Arìon Choir & Consort, Arte Musica, L'Arte dell'Arco, La Stagione Armonica, De Labyrintho, La Capella di Cremona, La Capella di San Petronio di Bologna, Orchestra da Camera di Mantova, I Musicali Affetti, La Venexiana, Collegium Vocale Gent singing in the most important festivals of early music in Europe and America: Bruge, Europalia, Lufthansa Festival, Early Music Festival Istanbul, Early Music Festival Postdam, Ravenna Festival, Salzburg Festival, Ambronay and Festival de Saints in France,Maggio Musicale Fiorentino, Anima Mundi Pisa, Chopin Festival Varsavia, Festival Accademia Chigiana Siena, Festival di Hannover, Emilia Romagnia Festival, Festival Monteverdi di Cremona, Casa della Musica di Parma, Alte Musik Melk and others.

He collaborates with conductors: Gianluca Capuano, Raphaël Pichon, Sigiswald Kuijken, Walter Testolin, Riccardo Muti, Luciano Acocella, Umberto Benedetti Michelangeli, Gustav Leonhardt, Claudio Cavina, Vito Clemente, Antonino Fogliani, Marc Andrè, Diego Fasolis, Filippo Maria Bresan, Michael Radulescu, Alberto Zedda, Aldo Salvagno, Cinzia Pennesi, Ottavio Dantone, Nicholas Mc.Geegan, Philipphe Herreweghe, Frans Brugen, Francesco Cera,, Enrico Onofri, Sergio Balestracci e Fabrizio Bastianini.

He was presented with great succes in theaters and concert hall as Lincoln Center di New York, Scala Theatre of Milan, Concertgebow Amsterdam, Auditorium St. John's London, Konzerthaus Vien, Auditorium Kitara Japan, Teatro de Bellas Artes of Mexico City, Auditorium Köln in Germany, Auditorium Brugge in Belgium, Grand Théatre de Montpellier, Théatre de Tulouse, Théatre de Reims, Grand Théatre de Marseille, Théatre de Bordeaux, Théatre de Tours, Théatre de Avignon, and Théatre des Champs Elysées in France, Teatro Bibiena di Mantova, Teatro Comunale di Bologna, Teatro Rossini di Pesaro, Teatro della Fortuna di Fano, Teatro Lauro Rossi di Macerata, Teatro Comunale di Fermo, Teatro Nichelino di Torino, Casa della Musica di Parma e Teatro Olimpico di Vicenza in Italy and many others.

From 2014 he began an important career as a professor, returning to his native country, collaborating with important universities such as the Autonomous University of Mexico UNAM, La UDLAP Puebla, La University of Querétaro and the Ja'sit University of Tijuana.

From 2018 he began a career as conductor of early music ensembles and is currently guest conductor of the AMA early music academy in Mexico City.

From 2019 he began an important career as a sound engineer, and film documentary director, creating his own ICHOS label with which he collaborates with the labels: Tactus, Brilliant Classics, Da Vinci and many others.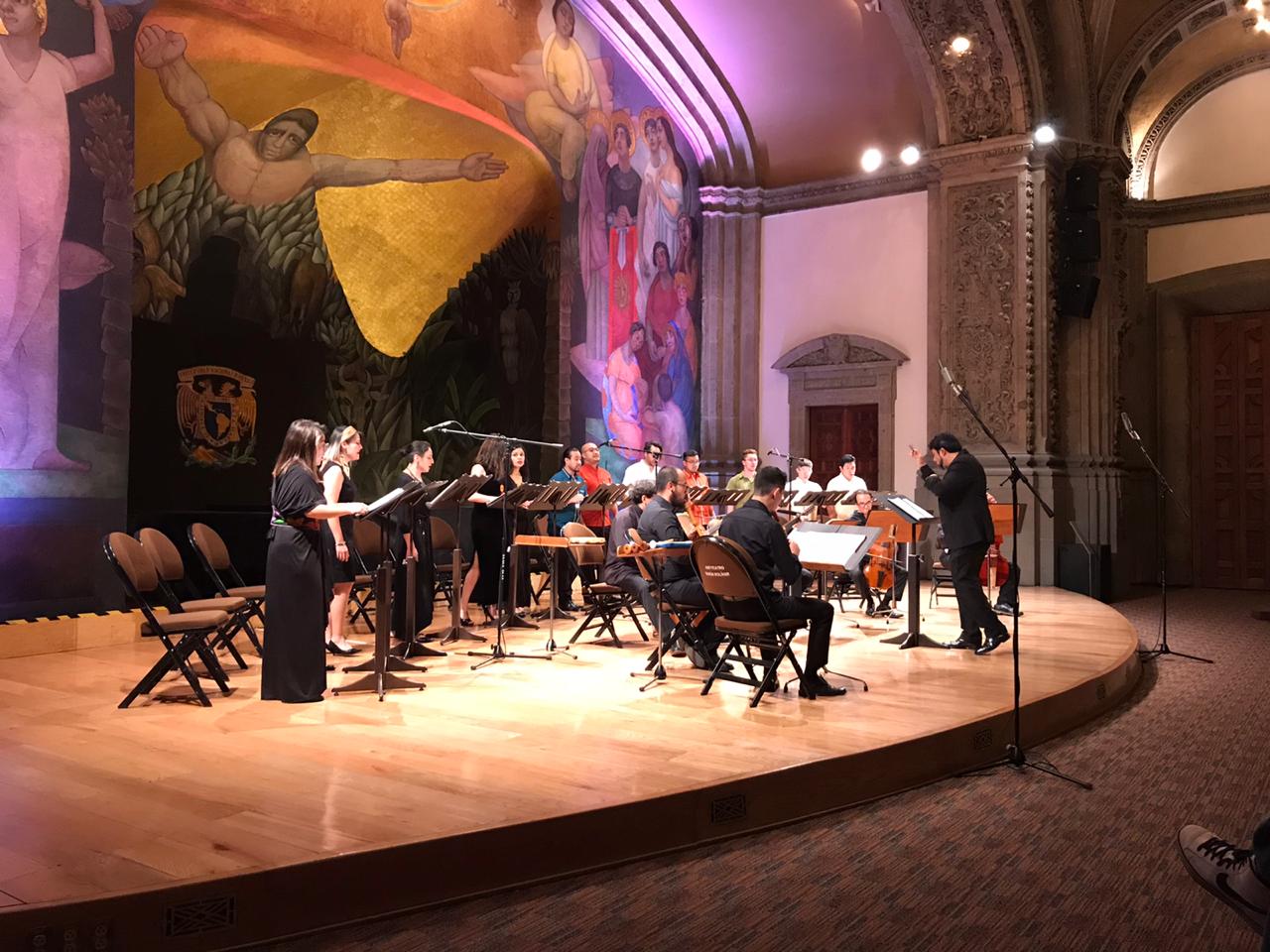 Conducting Ensemble AMA in Mexico City.